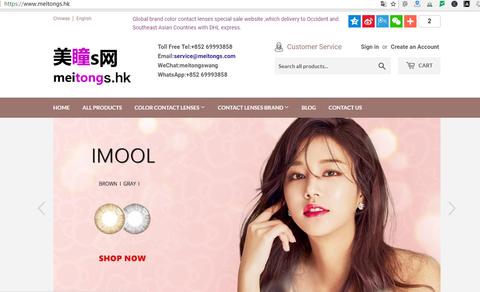 Where to buy cheap contacts for my first wear?
If it is your first try to wear lenses, you are surely confused to choose where to buy discount contact lenses. Meanwhile, choose a reliable store is very important.  There are 5 stores you should know and save in your bookmarks.
1. 1800 Contacts
As the world's largest contact lens store, 1800 CONTACTS is dedicated to providing you with a simple,hassle-free way to replace your contact lenses.
Imool (love) is committed to creating the most attractive lenses of products for users, which adopt the world's best raw materials and the most advanced technology for you to produce the safest, most comfortable lenses. 
You can subscribe Imool to get a discount contact lenses coupon code and new release.
3. Discount Contact Lenses
1800 contacts and Discount Contact Lenses are specialized in prescription contact lenses, if you want to buy cheap colored contact lenses online, there is a brand from Japan, IMOOL.
From Meitongs.hk, you can buy discount contact lenses, such as  Annasui, GEO, Imool, Putia, Angel Color, Loveil, Seed, NEO, Naturali , Lalish-Aisei, Bausch Lomb, Hydron, NOMI and so on.
5. LensDirect
At Lens Direct, discount contact lenses are their specialty. Since 1992 they have been selling contact lenses online, making them one of the oldest online retailers of contact lenses.