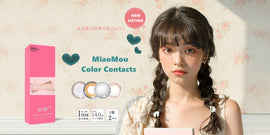 Grey eyes usually give people a mixed-race and mysterious feeling. When you wear these pair of gray contact lenses, you will become the most attractive star in the street, school, and party.
Meitongs's contacts come in more than 100 shades of grey, they're also available in various degrees of transparency and levels of enlargement. Relatively transparent designs add a light greyish tint to your natural eye color not too exaggerated , thereby making them a great fit for the office or school.
Our grey contact lenses contain light gray, dark gray, and silver gray. They are available for daily, for 3 months, half a year, and yearly. You can choose from a variety of styles. Choose grey contact lenses and you will have a unique temperament, and let everyone start looking up to you!
Grey contact lenses
Showing 1 - 20 of 32 Items