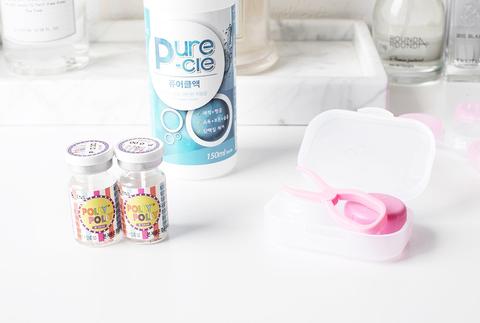 First time buying colored contact lenses? Something you should know (1)
Girls are often confused when shopping colored contact lenses for the first time. You may be motivated by your peers. Sometimes it is just a discount contact lenses ads on the website with an attractive coupon. The new gate opens. Enlightening as it is, girls, realize that to upgrade appearance at a low cost, "cheap" contacts are way more user-friendly than plastic surgery.
Entering the gate, the first thing you should know are parameters, function, and effect.
First thing first, do you know the difference between colored contact lenses and contact lenses? In short, colored contact lenses are contact lenses with color. It is designed to make the eyes look bigger and more pretty.
Colored contact lenses are divided into two categories: ones with the degree and without. Most of them provide degrees from 0 to 1000. Some of the brands' products ranging from 0 to 800, for example, NEO.
A pair of lenses can be personalized with two different degrees given that people often do not have the same degrees between left and right.
1. Color, the most obvious reason to choose lenses of all kinds.
For color, there are black, brown, gray, blue, purple, green and pink.
For tone, there are one, two and three.
Black is the most obvious color when we talking about big-doll eyes. Brown can also make your eyes look bigger but in a natural way. These two makes the top 2 in the market. Gray makes eyes brighter. Blue, purple, green and pink gives you an opportunity to be different from the mass.
2. Two-tone and three tone lenses match makeup very well.
3. An important thing is to know yourself.
This helps you to pick the perfect lenses. Look your face in the mirror. Are your eyes big, medium or small? Are your pupils dark or light?  If you have big eyes, colored contact lenses with a diameter of 14 mm to 16 mm will fit you. Medium-eyed and small-eyed girls suits lenses with small diameter. The larger the diameter is, the thinner the lenses will be.
4. A small tip for girls who want to select Korean colored contact lenses
Most of the Korean lenses are for yearly use with water content between 38% to 48% and the thickness fall to 0.025 mm to 0.04 mm.
Generally speaking, yearly-use-contact-lenses have relatively low water content. High level of water content would make eyes dry because the higher water content, the much water eyes need.
5. Colored contact lenses have the same nursing care with contact lenses.
No special nursing fluid needs for colored ones. All kinds of lenses are not suggested to wear overnight.