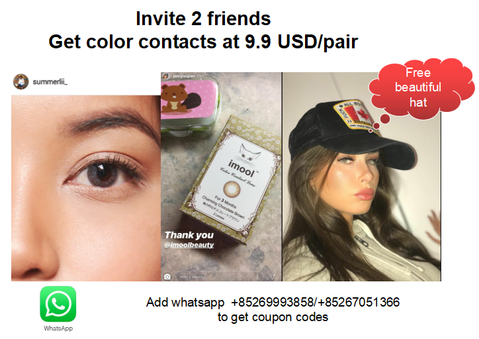 What Will You Do With 9.9 USD?
What will you do with 9.9 USD?
It's just a little money. But now I'd like to tell you a thrilling news, that is you can get a pair of discount colored contact lenses for only 9.9 USD for a  pair and the original price is 40 USD for a pair. Seeing this, you may not believe your eyes, but it's true! Next, maybe you will doubt the quality of the cheap colored lenses, but you are no need to worry about this because all these colored contact lenses we send to you are big brands, such as Acuvue, Bausch&Lomb, Hydron, Imool, whose qualities have been qualified. What is more, you can get a fashionable cap for free as a gift. So come to buy it quickly!
Why will we sell these wonderful products at such a low price?
We are an online colored contact lenses shopping website, which has attracted a lot of customers from all over the world. We are trying our best to satisfy your customers' demands, and thank you for choosing our products. Most of you have bought colored contact lenses from our website before, so this activity is to express our thanks for your support and we hope you can continue to support us. Thank you!
How can you join this activity?
First, you can add our WHATSAPP.
Next, you send a message to tell us that you want to join this activity.
Then, we will send you a link and a coupon to you
Then, to invite two of your friends to buy, and only all three of you have ordered by using the coupon will you buy it successfully.
Last, please send your address information to us, we will send it for you in a short time.
You can get more information about the promotion of our website.https://www.meitongs.hk/