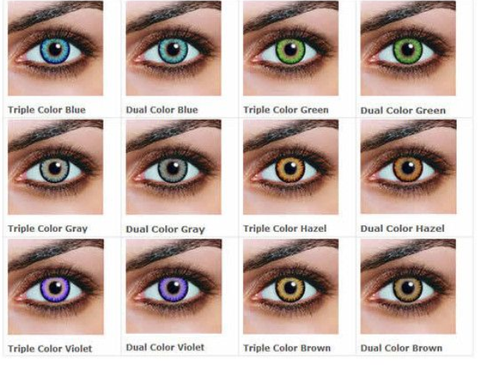 The Strongest Guidance to Color Contacts Lenses ( Chapter 3 )
If you hope to have amazing colorful eyes, and more striking or Halloween look eyes, then you've come to the right place! Meitongs. HK, the largest cheap contact lenses online store, guide you from 0 to 1.
6. Could I wear cheap colored contact lenses if I don

'

t have a prescription?
Surely you can! Currently all our contact lenses on Meitongs.hk are non-prescription that you don't need vision correction. Non-prescription lenses are called piano formats (or power: 0.00) . You do however need to have advice from your optician to wear contact lenses, even if you don't need vision correction.
7. Which discount colored contact lenses are best for me?
Choosing your favorite color and shade of color contact lens, to match your eye color, skin tone and the effect you'd like to create.
8. How can I choose the color of contact lenses?
If your eyes are lighter (eg. Blue eyes, Grey eyes, Hazel eyes)
Light blue eyes:  Try green or grey lenses to give your eyes a new effect.
If your eyes are darker (e.g. green and brown), opt for hazel and lighter brown/green shades for a subtle and natural look.
If you have an olive or dark skin tone, a lighter eye color will look very striking.
Your dark eyes are perfect for experimenting with vibrant color such as purple, pink and aqua or green.