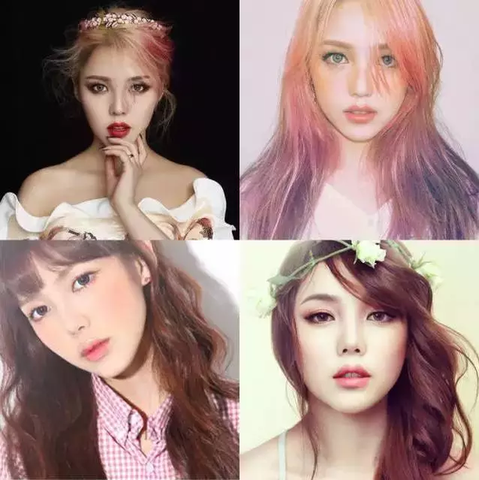 How to choose colored contact lenses that make you look natural?
Have you noticed that PONY, the famous make artist from Korea, has a lot of contact lenses that go with her styles every day? Colored contact lenses can light your whole makeup and make your face look more exquisite. 
Some girls may say that it is a huge cost for them to buy different styles of contact lenses. That is not even a problem. Today we are going to tell you about the tricks concerning colored contact lenses. you can also learn more about discount contact lenses.  
1. Basic knowledge about colored contact lenses
Colored contact lenses have the different lifetime, such as dailies, weekly, monthly and yearly. Other factors, water content, diameter, base curve, concerning contact lenses are not the first concern when we are choosing lenses.
Lifetime: The shorter the lifetime, the higher water content level it has. It is also more comfortable and hygiene. So dailies are the best choice. Online retailers offer discount contact lenses and relatively cheap contacts for consumers. They may also provide discount contact lenses coupon.
Base curve: if the colored contact lenses cannot stay still in your eyes, the base curve is the point. Choose loose ones with bigger curve figure.
Diameter: Color-diameter tells you the color range of the lenses which decides the wearing effect.
2. Types of my favorite colored contact lenses
1.Black with small diameter
This one is the most natural one when using.
2.Brown with small diameter
Accompany with same color tone makeup make you look younger.
3.Two-tone with blossom pattern
This type of lenses looks lighter under the sunlight, adding an exotic flavor.
4.Light gray
Light gray contact lenses strengthen visual effect with lowering the saturation pupil.
5.Green and Blue
   Green and blue contact lenses are popular in European and American countries.
6. Colors go along with hair's color