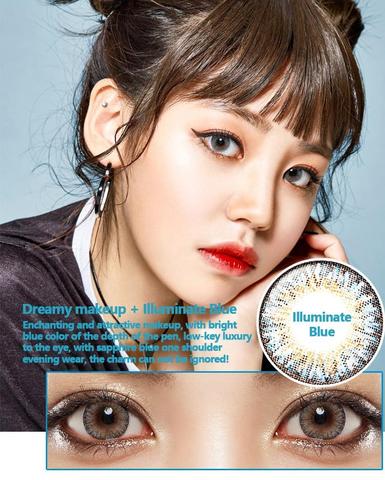 Blue Contact Lenses for Summer!
It is summer! When we brought up summer, what is the picture that come up to you first? Ocean? Beach? Party? To be stylish in great summer, army you with gorgeous blue contact lenses is the first thing you should be done. Let alone so many discounted contact lenses are waiting for you. Check this out!
1. NOMI  Gossip 4U Blue
Korean brand NOMI have excellent contact lenses. A pair of this can be used for half a year. Great weapon to attend swimming pool party as it makes you like a mermaid. The day may be the day your prince come to your side.
2. HYDRON Tea Dream Blue
Even though becoming a princess is a dream, its low price is a beautiful reality. Yeah, I 'stole' the slogan from Mustang. A single pair of lenses makes you princess for half a year.
3. HYDRON Run Li Blue
Half-yearly-disposed. A black outer ring and 14.00mm diameter show your eyes in a natural way.
4. HYDRON Yogurt Blue
I myself think it is interesting to say that this one is sweetheart style. But it is, by the brand. This one appearing which I do not feel it sweet. 0 to 800 degrees lenses are in stock. Frame-glasses-girls, you are free to pick.
5. HORIEN Pure Blue
The official saying is that its design concepts follow the story of Pandora. Look at the model picture on the right. The contact lenses reflect a gray tone. So special. It looks charming to me.
6. HORIEN Macaroons Cranberry Blue
Another product from HORIEN. Can you tell your feeling when you first met French dessert, Macaroon? Language could not tell the taste and sweetness. Put on this one and be Macaroon for your beloved one.
7. FRESHLOOK Illuminate Blue
https://www.meitongs.hk/products/freshlook-colored-contacts-lenses5
Diameter is only 13.8mm. A good news to ladies who have the problem fitting other lenses in the eyes. Concept "Illuminate" is determined to shape you into a bright and fresh girl.
8. BAUSCH & LOMB  Blue
One piece mixed blood small diameter disposable half yearly color contact lenses
This series of products by BAUSCH&LOMB want to help clients look smart and beautiful. Applying it on, you are putting a lake in your eyes. "I decide to go back to the surface because this is not where I belong."
9.BAUSCH & LOMB  Proud Blue
Lacelle Disposable Daily Colored Contact Lenses
Look at the patterns this baby have! So luxury. A song lyric comes into my head. "Shine bright like the diamond." The Lace pattern is designed by double layer technique.